2022 NM-LTAP Training Summary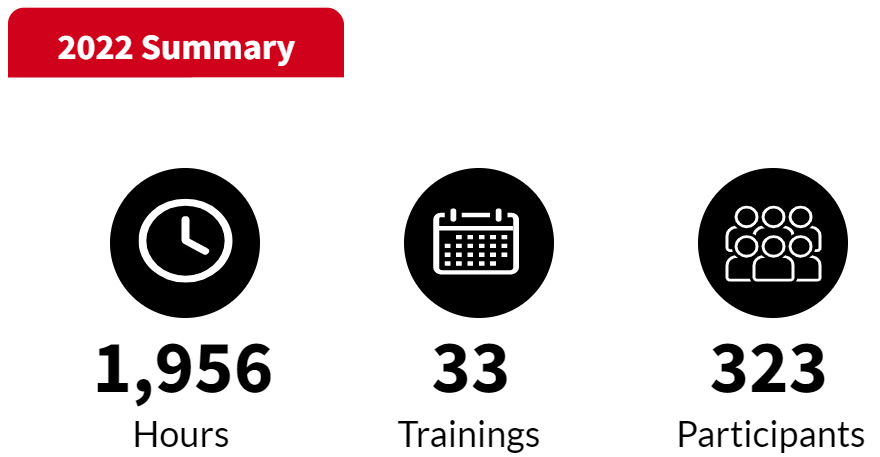 In 2022, NM-LTAP was proud to serve over 320 unique participants in our 33 classes. In 2022, we provided almost 2,000 hours of trainings to local and tribal agencies in New Mexico! We are thrilled to bring more trainings to you in 2023. See some opportunities below! 
Road Safety Audits
March 24, 2023 
9:00-4:00 PM Mountain Time: Las Cruces, NM  DACC Workforce Development Center
Lunch will be provided
In this workshop attendees learn how to improve safety on our roadways by applying a proactive approach to reduce collisions and their severity. The methods discussed address the examination of a roadway by an independent, qualified audit team. The RSA is a way for an agency to improve safety and communicate to the public how they are working toward crash reduction. We will discuss how to conduct an RSA and identify a few of the common safety issues found with RSAs. This workshop is for anyone with a desire to reduce injuries and fatalities on our roads including the street/road crew, the administrative staff, and the engineering staff. The material will be presented with a combination of interactive lecture, group discussion and activities.
After completing this course, you will be able to:
• Define why we need Road Safety Audits
• Describe the process for completing a Road Safety Audit
• Describe Risk and Safety
• Recognize common issues found while conducting RSA's
• Demonstrate how to perform an RSA through examples
April-June classes will be announced 3/9/23.
Request a Training Certificate
Have you attended and NM-LTAP course and need proof of course completion? Click here to request a digital or physical copy of your training certificate. 
ACNM Training Opportunities
NM-LTAP has paired with the Associated Contractors of New Mexico to povide Temporary Traffic Control Technician and Supervisor, Storm Water Competent Person trainings, and more. You can take ACNM courses through NM-LTAP at a cost of only $25.00.  Select the link below to see course options and registration information. If you are interested in a course, reach out the NM-LTAP at ltap@unm.edu to verify course eligibility.  
Select here for course options. 
NM-LTAP  has FREE webinars for you. 
New Mexico LTAP understands that our communities have differing needs and concerns. To meet your demands in a timely manner, NM-LTAP has collected a variety of webinars for you to access anytime you have a spare moment or come across a training opportunity. NM-LTAPS webinar series include courses on: Geospatial Monitoring, Pedestrian and Bicycles, PLanning webinars and more. If you don't see a course that you need, reach out to NM-LTAP and we will find resources to better support you.
Check out the webinars here. 
National Highway Institute (NHI)
 
Introduction to Safety Inspection of In-Service Bridges; Chip Seal Best Practices; Pipe Installation, Inspection, and Quality; Introduction to a Transportation Asset Management Plan; Hot In-Place Recycling.

Browse Courses and Register here.
TC3 Training Opportunities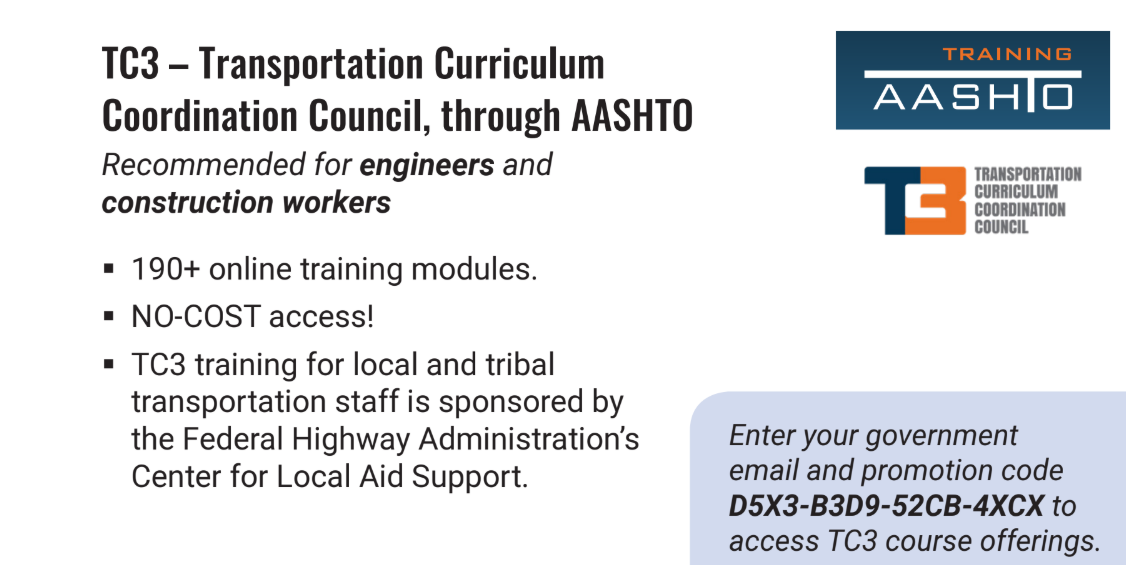 Flexible Pavement Preservation Treatment Series; Improving the Daily Diary; Chang Orders, Claims, and Dispute Resolutions; Flagger Training; Pavement Markings; Proper Plowing Techniques; Flexible Pavement Preservation Treatment Series: Crack Sealing and Fillings; Basic Construction Surveying.

Browse courses and register here.