2022 NM-LTAP Training Summary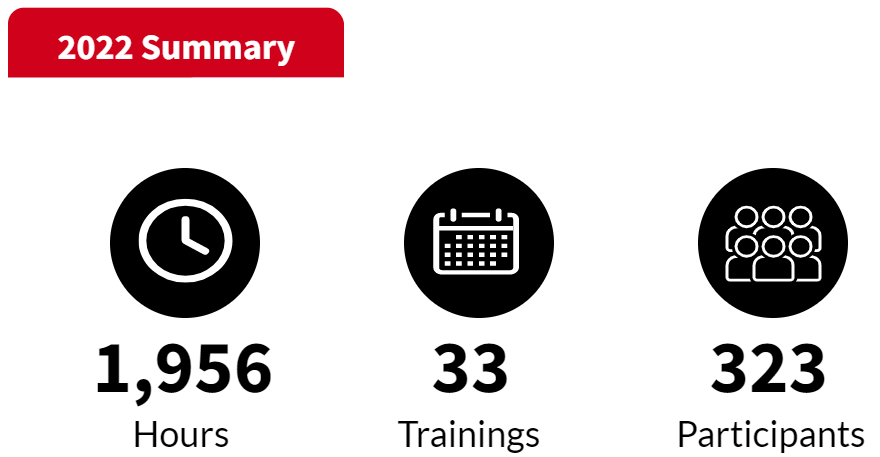 In 2022, NM-LTAP was proud to serve over 320 unique participants in our 33 classes. In 2022, we provided almost 2,000 hours of trainings to local and tribal agencies in New Mexico! We are thrilled to bring more trainings to you in 2023. See some opportunities below! 
Traffic Management Through Signs and Markings
January 25, 2023
9:00-4:00 PM Mountain Time: Las Cruces, NM DACC Workforce Development Center
This course will take a detailed look at Sections 1, 2, and 3 of the Manual on Uniform Traffic Control Devices.  This will be a great opportunity for participants to get a good understanding of the requirements of these sections.  Discussion of specific work experiences regarding signing and the MUTCD will be encouraged.  The workshop will be a fun combination of lecture, activities, and interaction.  The training will stress understanding of the MUTCD and its principles.
Attendees of the workshop will be able to:
Understand how to use the MUTCD
List the Basics of Signage
Describe How to Sign
Select Curve Warning Signage
Properly Use Pavement Markings
Protect Themselves and the Local Agency from Liability
The Supervisors Role: Avoiding Liability
February 1 and 2, 2023
9:00-12:00 PM Mountain Time: Online via Zoom
Supervisors and managers must deal with potentially difficult issues day in and day out: hiring, managing performance, navigating corrective feedback conversations, and employment termination, all while creating a safe and welcoming workplace environment. These issues are made even more complex by often-changing regulations and policies, all of which may impact supervisory liability. In this course you will learn to understand how to speak, act, and respond in ways that increase managerial effectiveness and decrease legal liability. 
The workshop objectives include helping you to learn, understand and apply:
Regulations and policies that impact your job as a supervisor.
How being in compliance with the law can reduce liability for you and your organization.
How the potential for liability should enter into what you think, say and do on the job.
The information and skills necessary to deal with complex employee relations situations.
The importance of documentation and following written policies.
Ways to avoid common pitfalls in the compliance aspects of supervision
Diversity and discrimination
Hiring and other conditions of employment
Sexual and other unlawful harassment
Workplace bullying, threats, and violence
Performance evaluation and appraisal
Methods for factually documenting performance and conducting an effective performance evaluation.
Employee relations decision-making models which will improve your ability to make better and more compliant decisions.
An action plan for further developing supervisory capabilities and putting enhanced skills to use in the workplace.
Register for this FREE course here 
Adaptive Leadership
February 15, 2023
8:00-5:00 PM MT- Albuquerque, NM (in-person attendees will receive free lunch) or online via zoom
You can impact your organization, community, and the world around you - with or without a fancy title. Leadership is an activity that anyone can practice, any time. This course will teach you how to diagnose situations, manage yourself, energize others, and take action to make progress on the toughest challenges you face. Please come with a challenge in mind and ready to participate fully.
Course Outline and Objectives
Learners will distinguish between technical and adaptive work, embrace the idea that leadership is an activity, and begin to anticipate ways to make progress on adaptive challenges.
Learners will distinguish between observations and interpretations and practice generating multiple interpretations that are more adaptive, conflictual, and systemic.
Learners will identify stress activators and practice the STOP method to better manage their emotional response.
Learners will identify the edges of their own comfort zone and get ideas about how to stretch and experiment to make more progress on their challenges.
Learners will build capacity to visualize the competing values and conflicting priorities at work in any system.
Learners will understand the characteristics of process challenges and what it takes to address potential barriers with a trustworthy process.
Learners will explore the idea that making progress on issues we care about requires us to raise the heat on ourselves and others to compel us to do challenging work.
Learners will outline experiments to make progress on their leadership challenges and choose one or more to implement when they go home.
Learners will understand the concept and purpose of a debrief and participate in a disciplined reflection of the course learnings.
Register for this FREE course here
Practical Math for Roadway Workers
February 22, 2023
9:00-12:00 PM Mountain: Online via Zoom
With math basics followed by lessons in calculating length, area, volume, and quantities, this interactive course presents how to estimate highway maintenance work in real world situations using the math you already know!  Utilizing a step-by-step approach, complex situations encountered by highway and street departments will be broken down into simple pieces.
 The course is a series of modules.  Each module explains basic math concepts or illustrates how to estimate quantities for typical maintenance operations.  You will be encouraged to ask questions, work through some problems, and build your confidence in what you can do. At the end of this workshop, you will be able to:
Perform basic 

math

 calculations

Calculate length, area, and volumes

Unit conversion

Estimate highway maintenance work using basic 

math

 for repairs involving asphalt, chip seals, shoulder fill, stockpiles, salt storage, tank storage, salt spreader calibration, road salt and liquid brine application, ditch grade, mowing, herbicide spraying, seeding, bridge deck repair, concrete deck sealing, sidewalk, and roadway slope.
This workshop is for anyone who needs to solve common on the job problems.  This includes Foremen, Superintendents, Crew Leaders, and Maintenance Workers.
Register for this Free course here
Basic Plan Reading
February 23, 2023
9:00-12:00 PM Mountain: Online via Zoom
Roadway plans are developed to provide a pictorial view of the existing facilities and proposed improvements on a particular portion of roadway. They convey information about the construction project itself ranging from the amount of construction materials used on the project to the amount of land necessary to accommodate the work. Various sections make up a complete set of highway plans and those that are included depend on the type of construction taking place.
This class takes participants through the various types of plans used at road departments. Participants discover how to read and interpret the different types of standard symbols and abbreviations. This course discusses features and details contained within plans; how to define the types of scales and identify dimensions found on plans. Sample roadway plans will be used.
Local agency street maintenance crews and road departments will find the highway plans valuable tools to assist in right of way determination, easement location, and drainage features.  The workshop is also useful for planning, zoning, permits, construction inspection, and right of way agents.  The class will be a fun combination of lecture, discussion, and group activities and is intended to familiarize the user with plan reading.
At the end of this workshop, you will be able to:
Measure using scale and stationing

Discuss the three basic views, symbols and abbreviations used in plans
Identify components of the layout sheet
Recognize information contained in the typical sections and the summary of quantities sheets.
Identify information found in plan, profile, ROW, erosion control, pipe, and cross sections sheets.
Register for this FREE course here
Road Safety Audits
March 24, 2023 
9:00-4:00 PM Mountain Time: Las Cruces, NM  DACC Workforce Development Center
In this workshop attendees learn how to improve safety on our roadways by applying a proactive approach to reduce collisions and their severity. The methods discussed address the examination of a roadway by an independent, qualified audit team. The RSA is a way for an agency to improve safety and communicate to the public how they are working toward crash reduction. We will discuss how to conduct an RSA and identify a few of the common safety issues found with RSAs. This workshop is for anyone with a desire to reduce injuries and fatalities on our roads including the street/road crew, the administrative staff, and the engineering staff. The material will be presented with a combination of interactive lecture, group discussion and activities.
After completing this course, you will be able to:
• Define why we need Road Safety Audits
• Describe the process for completing a Road Safety Audit
• Describe Risk and Safety
• Recognize common issues found while conducting RSA's
• Demonstrate how to perform an RSA through examples
Request a Training Certificate
Have you attended and NM-LTAP course and need proof of course completion? Click here to request a digital or physical copy of your training certificate. 
ACNM Training Opportunities
NM-LTAP has paired with the Associated Contractors of New Mexico to povide Temporary Traffic Control Technician and Supervisor, Storm Water Competent Person trainings, and more. You can take ACNM courses through NM-LTAP at a cost of only $25.00.  Select the link below to see course options and registration information. If you are interested in a course, reach out the NM-LTAP at ltap@unm.edu to verify course eligibility.  
Select here for course options. 
NM-LTAP  has FREE webinars for you. 
New Mexico LTAP understands that our communities have differing needs and concerns. To meet your demands in a timely manner, NM-LTAP has collected a variety of webinars for you to access anytime you have a spare moment or come across a training opportunity. NM-LTAPS webinar series include courses on: Geospatial Monitoring, Pedestrian and Bicycles, PLanning webinars and more. If you don't see a course that you need, reach out to NM-LTAP and we will find resources to better support you.
Check out the webinars here. 
National Highway Institute (NHI)
 
Introduction to Safety Inspection of In-Service Bridges; Chip Seal Best Practices; Pipe Installation, Inspection, and Quality; Introduction to a Transportation Asset Management Plan; Hot In-Place Recycling.

Browse Courses and Register here.
TC3 Training Opportunities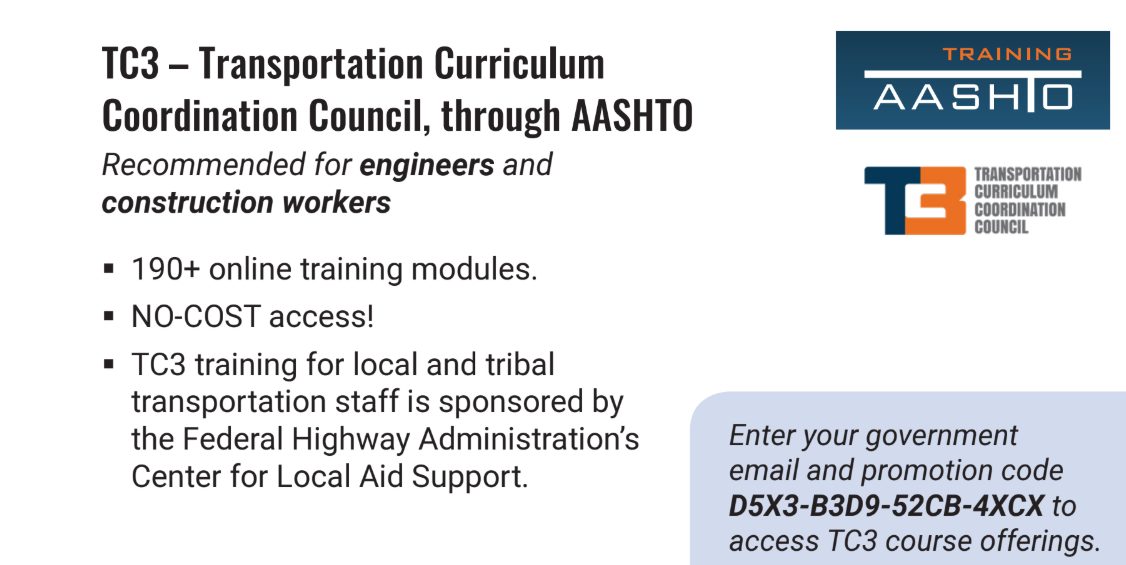 Flexible Pavement Preservation Treatment Series; Improving the Daily Diary; Chang Orders, Claims, and Dispute Resolutions; Flagger Training; Pavement Markings; Proper Plowing Techniques; Flexible Pavement Preservation Treatment Series: Crack Sealing and Fillings; Basic Construction Surveying.

Browse courses and register here.