AASHTO TRAC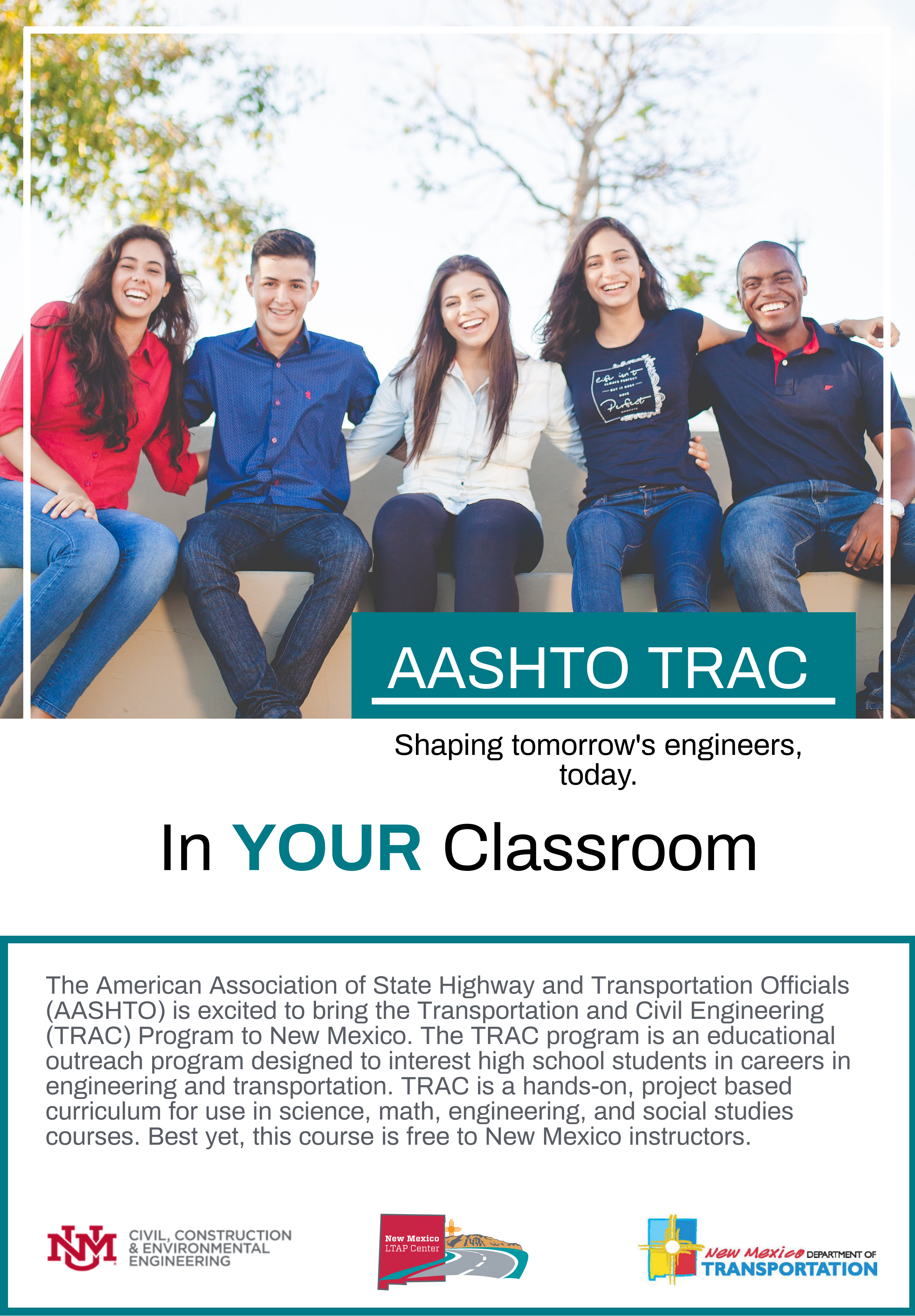 Participate in TRAC 
The New Mexico Department of Transportation (NMDOT), the University of New Mexico Department of Civil, Construction, and Environmental Engineering (UNMCCEE), the New Mexico Local Technical Assistance Program (NM-LTAP), and the American Association of State Highway and Transportation Officials (AASHTO) are thrilled to bring the Transportation and Civil Engineering (TRAC) program to a high school near you!
TRAC is an educational outreach program developed by AASHTO. It is designed to train teachers and to interest high school students in pursuing careers in engineering and transportation. The curriculum is hands-on and project-based. Teachers can use TRAC in their science, math, engineering, and social studies courses. Students can benefit from TRAC by learning how they can apply the material they learn in their high school classes to solve real world problems.
Registration is now open
Are you a teacher who registered for this course? Find information on the course below.
Las Cruces: 
March 6, 2019 from 8:30 AM - 3;00 PM
Doña Ana Community College
Workforce Center
2345 Nevada Ave, Las Cruces, NM 88001
  
.
TRAC Bridge Builder Competition Overview
The competition will be divided into two categories: Beginner TRAC and Advanced TRAC. The Beginner TRAC Category will be open to those teams from schools competing for the first or second year in the national competition. Advanced TRAC category is for schools with teams returning to compete three or more consecutive years. Advanced TRAC teams will also have to complete an additional on-the-spot bridge challenge during the national competition that will be announced to the three finalist teams. 
The competition is also based on student level. For more information about the competition your students qualify for, select the appropriate grade range below.
Competition for Grades 7 and 8.
Competition for Grades 9 and 10.
Competition for Grads 11 and 12.
Interested teams must complete the application (found in links above) by November 1, 2019.  Submission of the project proposal must be submitted no later than February 14, 2020 and winners will be notified March 13, 2020. 
Bride Competition Schedule
1. Applications due November 1, 2019
2. Packets will be shipped to teams by the TRAC office by November 30, 2019. Packets will include Balsa Wood and Wood Glue
3. Proposals are due February 14, 2010 (do not include the Bridge).
4. Notification of finalists by March 13, 2020.
5. Finals will be held at the AASHTO Spring Meeting in Kansas City, Missouri, May 18-21, 2020.
If you have any additional question, contact Claude Morelli at morellic@unm.edu